About the WAQSS Project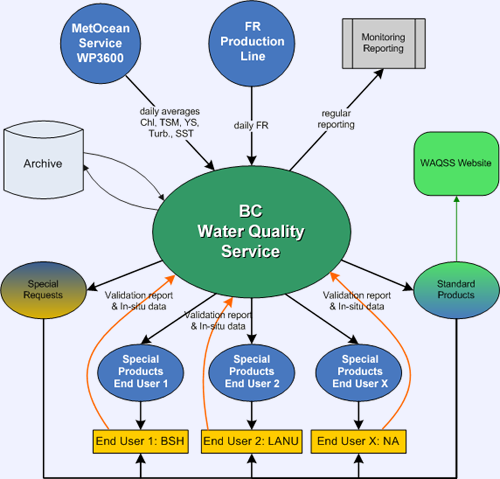 The BC-WAQS System provides products supporting an assessment of water quality in coastal areas. The products delivered are data and maps (Level 3 products) of chlorophyll, total suspended matter (TSM), yellow substance (YS), turbidity, sea surface temperature (SST) which are tailored especially to the requirements each individual customer.
The service portfolio consists of 3 different products categories:
Standard products
Special products
Special requests
The different products are further described here…
The whole of BC WAQSS (Water Quality Service System) is organized as shown in the figure on the right.
The input data are received from different sources and are mainly Earth Observation data sets such as satellite images, namely from MERIS sensor onboard the ENVISAT. Several processing chains within the WAQSS provide the specific output products in the way the customers need the data and maps. The figure below shows one of the chains processing producing maps designed for the Fegeral Maritime and Hydrographic Agency (BSH). The delivery of products is performed in daily or weekly frequency, depending on the products and requirements of the customers.
On the customer site, a validation would be welcomed which intensity depends on the resources and potential of the end users.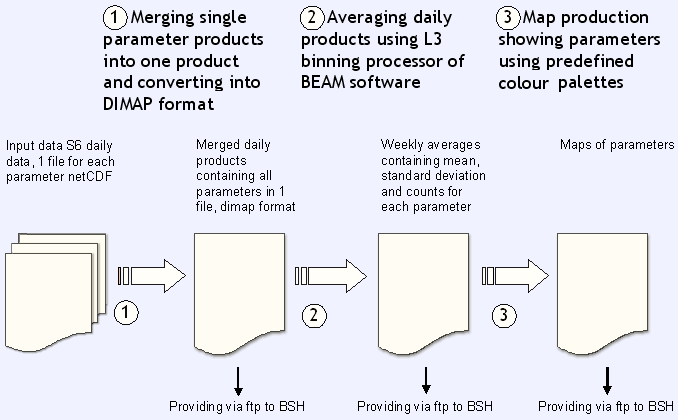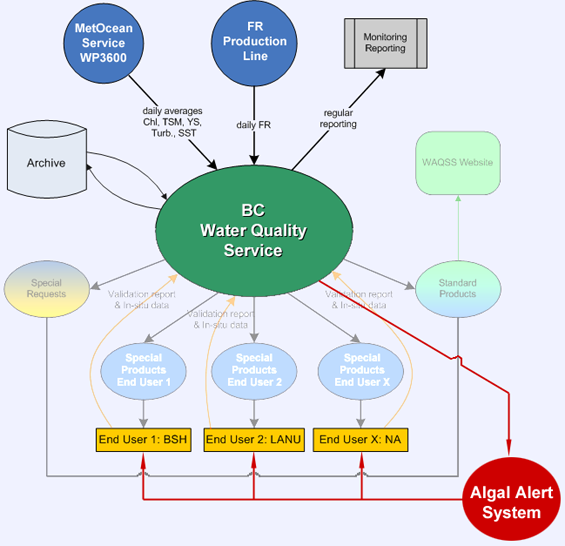 A special service within the WAQSS is the Algal Bloom Alert System. This service has been successfully started, but will be upgraded and optimised in the coming period by iterating information and data with the main customer LANU.
This service includes a regional and systematic coverage, extending to finer temporal and spatial scales depending on algal bloom occurrence.
The chlorophyll products delivered within the BC Water Quality Service System will be the basic input for the BC Algal Alert System. Using user-defined and, where possible, region and season specific thresholds on the chlorophyll concentration, algal blooms will be identified and danger classes will be generated. Maps and information about the algal bloom will be provided to the end users. SST maps support the analysis of hydrographical situation. Information provided by the end user (LANU) such as species abundances derived from field sampling will help to characterise the Algal blooms.
The validation of the products will be undertaken in close cooperation with the end user. Regular sampling programmes ran by the customers provide information for Water constituents or algal bloom detection which will be used for validation of the WAQSS products.